Sign making is Space3s specialism. We can design and produce a complete range of permanent and temporary signage such as Exterior Signage, Interior Signage, Vehicle Livery, Safety Signage & Court Crests. So whether your company image needs updating or you're looking for safety or site signage, eye-catching promotional banners or vehicle livery then get in touch today.
We use a wide variety of materials and technologies to produce products of the highest quality. We offer a complete design, production and installation service to suit your budget. As Sign makers based in Shipley we are able to visit many sites around Yorkshire easily to measure up your premises and advise you on what signs you could have to suit your budget.
Please click on  the images above to see examples of our work.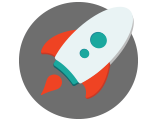 We're Here To Help Your Business Blast Off!
Through Creative Displays, Innovative Signage & Sheer Determination